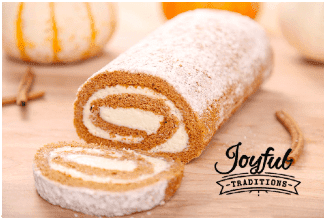 Cake Roll Fundraising Opportunity
PDF

 Fundraising fliers will be available during the first week of classes in September. This is not a mandatory fundraiser, it is entirely optional for your personal account to use to help offset gymnastics expenses if you choose to do so! The form is also attached!
WHAT ARE JOYFUL TRADITIONS CAKE ROLLS?
These cake rolls are made from scratch and are great for holidays and special occasions! They are frozen so you can use them when it's convenient for you. Thaw the cake rolls and they are ready to serve!

Joyful Tradition Cake Rolls are available in six delicious flavors:
Carrot Cake
Chocolate Crème
Lemon Creme
Pumpkin
Red Velvet
Strawberry Cream Cheese

ONLY ONE CHECK per seller turned in with form and payable to TNT Gymnastics - CASH is also accepted. Payment is due at time of order! Please have everyone hand you cash/check payable to you when you collect money from sales. We will NOT accept checks from people you sold to... all returned checks will be subject to a $35 check fee.

ORDERS ARE DUE BY THURSDAY, SEPTEMBER 22 - If you don't have class this day - turn it in at your last class prior to this date!

DELIVERY INOFRMATION - Delivery dates/times per location are listed below. The items are FROZEN so you should pick them up promptly! SET YOUR ALARMS, NOTIFICATIONS, ETC.... COACHES ARE NOT RESPONSIBLE FOR ORDERS NOT PICKED UP!


Waukon: Wednesday 10/12 4:00-7:00 pm
Prairie du Chien: Wednesday 10/12 5:00-7:00 pm 
Livingston: Wednesday 10/12 6:00-8:15 pm 
Richland Center: Wednesday 10/12 4:30-6:30 pm 
Sauk Prairie: Tuesday 10/11 4:00-5:30 pm
Mauston: Tuesday 10/11 5:45-8:00 pm
PLEASE MARK WHICH LOCATION YOU WANT YOUR ORDER DELIVERED TO!

If you sell items and participate in this fundraiser - you MUST organize pick-up. Fundraising is an opportunity for you to raise funds for your personal account. The profit per item sold is $8.50. All funds raised will be deposited into your account by October 1st and can be used for class fees, leotards, competition fees, etc. THERE ARE NO REFUNDS FOR FUNDS RAISED at any time/any circumstance.